After steadily decreasing for more than a decade, food insecurity – or the insufficient ability to access food – is increasing worldwide.[1] According to recent data, the number of people in food insecure situations around the world reached 815 million in 2016 – approximately 5% higher than numbers recorded the year before.[2] This upward trend is continuing today, with at least 11% of the world's population lacking secure access to food, many of whom are classified as being in a state of extreme hunger.[3] In fact, in just four countries – Nigeria, Somalia, South Sudan and Yemen – 20 million people are at risk of famine, and a further 10 million will be added if no action is taken.[4]
There are numerous factors that can adversely impact the production, availability, and accessibility of food, creating a situation of food insecurity, or worse, famine. For example, climate change-related events, such as droughts and floods, can devastate food supplies; economic downturns and hyperinflation can result in heightened unemployment and the inability to afford food and basic necessities; and accessing rural and remote areas following a natural disaster can be immensely challenging for delivering much-needed humanitarian aid and support.
The incidence of conflict, however, is becoming increasingly recognized as another significant contributing factor to the prevalence of food insecurity globally. Indeed, in nine of the 10 worst humanitarian crises, civil conflict has been found to be the driving force of food insecurity and thus intricately linked with implications for food security.[5] Last year the United Nations Security Council acknowledged "conflict as a major cause of famine" and called for "enhanced longer-term recovery and resilience of conflict-affected countries".[6] Conflict, macroeconomic instability, and environmental issues often occur simultaneously, leading to an even further destabilizing situation. Attacks by Boko Haram in Nigeria, for example, are critically disrupting livelihoods and markets in part of the country, contributing to 5.2 million people facing hunger.[7] However, it is anticipated that Nigerians are likely to be even more food insecure in 2018 compared to last year, as a result of high food prices and poor harvest conditions, in addition to the disruption brought on by the attacks.[8]
Conflict Drives Food Insecurity
According to a recent report by the World Food Programme (WFP) and the Food and Agriculture Organization (FAO), more than half of the world's hungry are in conflict-afflicted regions.[9] The past decade has seen a significant rise in the number of violent conflicts worldwide, particularly in regions that are already food insecure.[10] In conflict-afflicted regions, shifting resources and priorities may mean concerns such as malnutrition, water scarcity, and the effects of climate change on food supplies are improperly addressed, despite their increasing urgency.[11] Moreover, ongoing conflict can result in areas becoming inaccessible, such as through the closing of ports to imported goods, making the delivery of humanitarian and food aid to those who require urgent assistance difficult or even impossible.
The WFP stresses the critical role of conflict in food insecure situations currently occurring in Iraq, Syria, Bangladesh, the Central African Republic, and the Democratic Republic of the Congo.[12] However, the areas most concerned by food security at the moment are South Sudan, Nigeria, Yemen, Somalia, and Ethiopia, with conflict playing a varying role in each country.[13] Yemen, for example, has been facing a devastating conflict for nearly three years and, in 2017, 17 million people were considered hungry and 6.8 million people were considered to be in need of, "immediate, adequate and sustained food assistance".[14] Unfortunately, with no end to the conflict in sight, these numbers have increased to 8.4 million and many fear 2018 could bring a famine to the country.[15]
South Sudan, a country only independent since 2011, has been engaged in a five-year civil war. The war has severely affected the country: 60% percent of the population requires humanitarian assistance, 4.5 million people have been displaced, and food security has progressively deteriorated since the outbreak of conflict, as indicated in the maps below.[16] Before the conflict, famine only impacted a few counties, and for limited periods of time; now, all regions are experiencing crisis or emergency levels of hunger, with two thirds of the counties experiencing famine for extended periods throughout the year. As with Yemen, there does not seem to be an end in sight for the South Sudanese civil war, and 2018 is expected to bring even more adverse conditions to the country.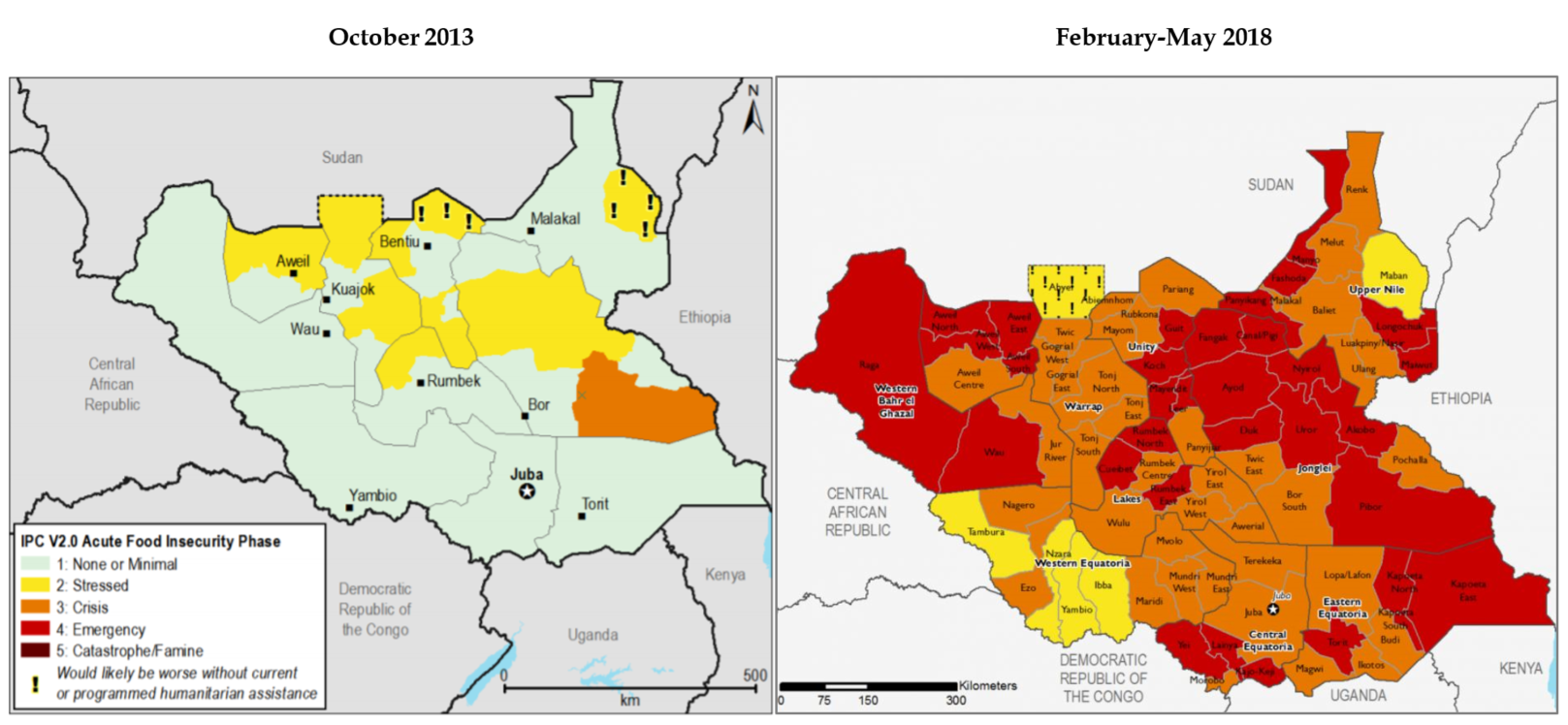 Photo Reference: Humanitarian Costs of South Sudan Conflict Continue to Escalate, Africa Centre for Strategic Studies, January 28, 2018.
Policy Solutions
The WFP is very clear about the best way to end hunger: end conflict.[17] While there are many different reasons for people to lack food security, a significant amount of research points to the strong correlation between conflict and food insecurity. Ending conflict is thus a very efficient way to alleviate a great deal of hunger in many areas. Problematically, of course, is how to end conflict in complex and protracted situations – and to ensure sustained peace. Moreover, as several factors may converge to create food insecure situations, it is critical that efforts are combined to "restore and support resilient livelihoods with peacebuilding and conflict resolution efforts".[18]
Abdessalam Ould Ahmed, Assistant Director-General and Regional Representative of the FAO, stresses the importance of "long-term and comprehensive policies and practices… [and it is] only through improved cooperation and solidarity" in ending conflicts and violence that the goal of eliminating worldwide hunger by 2030 is to be attained.[19] Endeavouring to achieve food security then offers a significantly better chance at not only achieving peace but also avoiding future outbreaks of conflict.[20]
Article written by Sarah THOMPSON
---
References 
[1] http://www.fao.org/state-of-food-security-nutrition/en/
[2] http://www.un.org/apps/news/story.asp?NewsID=58500#.WnwbvGYZOqB
[3] http://www.fao.org/state-of-food-security-nutrition/en/
[4] http://www.fao.org/news/story/en/item/1029956/icode/
[5] http://www.fao.org/news/story/en/item/1029956/icode/
[6] http://www.fao.org/news/story/en/item/1029956/icode/
[7] https://insight.wfp.org/we-can-end-world-hunger-but-only-if-we-end-the-conflicts-5697c3909945?_ga=2.134816121.980062623.1518464110-749249837.1517953952
[9] http://www.un.org/apps/news/story.asp?NewsID=58500#.WnwbvGYZOqB
[10] http://www.fao.org/state-of-food-security-nutrition/en/
[11] https://news.un.org/en/story/2017/12/640172-conflict-casts-shadow-fight-end-hunger-some-regions-un-agriculture-agency
[12] https://insight.wfp.org/we-can-end-world-hunger-but-only-if-we-end-the-conflicts-5697c3909945?_ga=2.134816121.980062623.1518464110-749249837.1517953952
[13] http://www.fews.net
[14] https://www.reuters.com/article/us-yemen-war-hunger/yemen-could-face-famine-in-2018-as-war-continues-aid-agencies-warn-idUSKBN1F51FG
[15] https://www.reuters.com/article/us-yemen-war-hunger/yemen-could-face-famine-in-2018-as-war-continues-aid-agencies-warn-idUSKBN1F51FG
[16] https://africacenter.org/spotlight/humanitarian-costs-south-sudan-conflict-continue-escalate/
[17] https://insight.wfp.org/we-can-end-world-hunger-but-only-if-we-end-the-conflicts-5697c3909945?_ga=2.134816121.980062623.1518464110-749249837.1517953952
[18] http://www.fao.org/news/story/en/item/1029956/icode/
[19] https://news.un.org/en/story/2017/12/640172-conflict-casts-shadow-fight-end-hunger-some-regions-un-agriculture-agency
[20] http://www.fao.org/news/story/en/item/1029956/icode/